Created by Anna Neklesa, a young and talented designer from Saint Petersburg, who joined the Kerozene Design Team, this out of the oridnary design pays homage to and is inspired by that great Russian tradition of Ballet. The design clearly refers to a graceful ballet dancer, with legs in a lovely tendu, its top a nicely ruffled tutu. Beneath, storage tubes accommodate magazines, newspapers, or your pointe shoes.
Anna is Russian, only 23 years old and already has industry experience at creating industrial and exhibition design, as well as private interiors, public spaces, lighting equipment and household items. More information about her can be found in Anna Neklesa's Coroflot page. (via 4Living).
She worked with a factory in France in order to ensure that the table passed stringent stress tests, pretty neccessary given it's somewhat out there leg shape. Although it has only two legs and you could expect it to be a bit wobly, the lounge table is said to actually be quit stable.
The factory in France really was able to master the technologies necessary to achieve the table. A design from Russia and manufactured entirely in France.
The top of the table is formed of stainless steel plate or powder-coated aluminium wrapped up in white, black or pink(!) cataphoretic paint to offer protection.;
The legs provide options of a varnished or painted solid oak finish.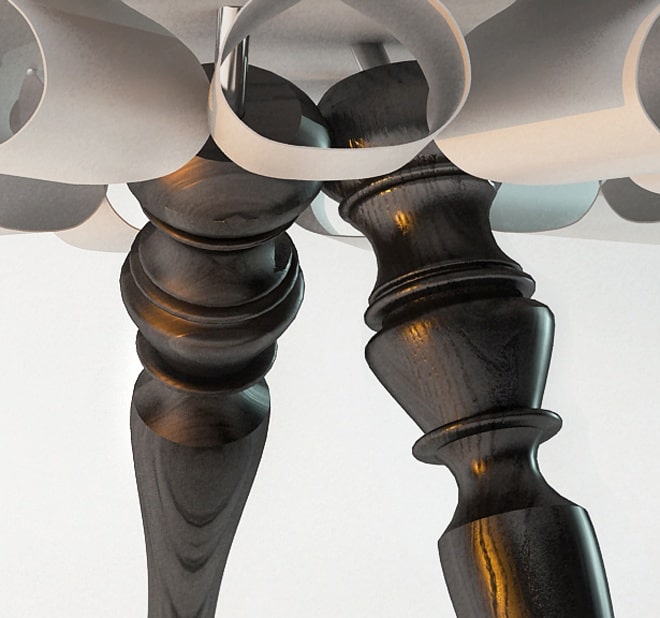 The table measures 800 x 1000 x 600-700 mm and is available at a cost beginning from €1400 ($1,879.79).
Guarantee 7 years.
You can find a list of suppliers
here
.