Last month the English National Ballet has auctioned 9 tutus made especially for their dancers by several fashion designers. The stars of the English National Ballet from the company of
Strictly Gershwin
, mingled with celebrities and guests at one of London's most glorious outdoor settings, The Orangery, Kensington Palace, for an evening of breathtaking ballet and fabulous fashion.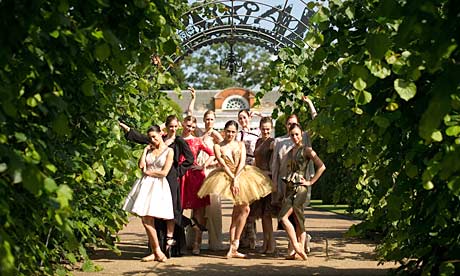 Each designer had chosen a dancer from the Company to inspire their creation. On the night of the party the dancers modelled the tutus in a catwalk show, before they went on display for guests to bid. The tutus were not really designed to be danced in as you will notice most of them are actually strapless, hence the catwalk show where they were auctioned throughout the evening in a silent auction to raise funds for the company.
Kerry Birkett in Erdem Photograph : John Davis, styled by Fabio Immediato
It certainly is a creative and unique way to do so! And unfortunately necessary after the Arts Council grant had been slashed by 15 per cent until 2015 - about £2 million. Without fundraising ENB would have to curb performances and touring. What a shame. At least this auctions braught them a little over £50,000 to start with.
The dancers involved in the show were Laurretta Summerscales, Kerry Birkett, Shiori Kase, Natalia Kremen, Jia Zhang, Stina Quagabeur, Alison McWhinney, Fernanda Oliveira and Ksenia Ovsyanick. They were favoured to wear tutus designed by Erdem, Agent Provocateur, Giles Deacon, Julien Macdonald, Roksanda IlIncic, House of Worth, Kinder Aggugini, Moschino, Jacques Azagury
.
There were supposed to be ten tutus originally, but it was announced that for personal reasons Bruce Oldfield was no longer able to take part. Begoña Cao and her Bruce Oldfield's tutu were therefore not part of the show.
It would seem the tutu designers have been heavily influenced by the Black Swan hype. Pitty they did not go for a bit more colour. Although Swan Lake obviously has inspired many a dancer over the centuries as I even myself related to in my previous post (

"How to make a tutu" for Swan Lake

).
Ksenia Ovsyanick in Roksanda Illincic Photograph : John Davis, styled by Fabio Immediato
Fernanda Oliveira in Moschino Photograph : John Davis, styled by Fabio Immediato
Shiori Kase in Giles Deacon Photograph : John Davis, styled by Fabio Immediato
Personally I like the tutus from Moschino and Agent provocateur best, along with a special mention for Kinder Aggugini and House of Worth for their colours.