Photograph: Sim Canetty-Clark /ROH

This weekend of 24 and 25 September, The Royal Opera House is holding a massive costume sale.
And to celebrate this rare event they are offering an exclusive piece as a prize in a competition…
On offer is an absolutely glamorous nymph's costume from The Sleeping Beauty (as pictured below modeled by dancers from the Royal Ballet behind Darcey Bussell), a cornerstone of the Royal Ballet's repertory and as such a true piece of Royal Opera House history. The costume was originally worn by Laura McCulloch and Natalie Harrison. 

The competition winner will be picked today, so if you have not entered, I am afraid it is too late. Aarggh, why did I just stumble upon this today!? I would have loved to participate.
Unfortunately, despite the extraordinary event, I will not be able to cross the pond this weekend, as we have 2 performances scheduled and apart from that, well, there is the small matter of the budget involved. But for those of you living nearby, it will certainly be worth it to go down to the sale itself! Nice excuse if you have not entered the competition, no?
So, whether you are a fellow balletomane looking for an exclusive piece of dance history, an opera lover yearning to feel like Don Carlo, a curious costumier or simply interested in a unique dress-up gown that surely no one else has, there will be something for you. I think that trying to describe this varied collection would simply be impossible - to my knowledge there is no catalogue edited for tis event - there will most certainly be something for most tastes, whether you are looking for medieval dress, an original suit for work or a costume.
Can you imagine that more than 1500 costumes are up for grabs? More than 1500! The costumes on offer
reflect different periods in fashion history. The majority comes from opera productions however as unfortunately only one ballet will be represented. T
he only ballet costumes will be from Natalia Makarova's 2003 The Sleeping Beauty.
As tutus normally are refurbished, I do not expect them to be part of this sale however. I guess this is a bit of a consolation for me as this would be what I would have been looking for specifically.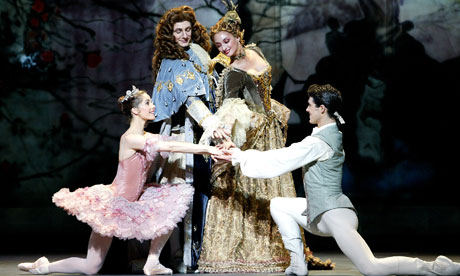 Natalia Makarova's The Sleeping Beauty at the Royal Opera House.
Photograph: Tristram Kenton for the Guardian
Other items come from productions as
the 1958 Don Carlos (Visconti version),

Parsifal

, Lohengrin, Duke Bluebeard's Castle, Erwartung, and Maskarade.
All of the costumes on offer come from what are known as dead productions. They will either not be performed again or will be presented in a more contemporary version.
As the Royal Opera House, just as the Royal Ballet add to their repertoire every year, over time the huge warehouse in Aberdare has gotten so full it simply is ready to burst, making such a sale a real necessity to clear space for new designs.
Prices are said to be reasonable from £20 for a shirt to £500 for a full costume and all proceeds go towards the work of the Royal Opera House. I guess showing up early and target what you may be looking for will be key to obtain your desired costume.
Previous sales have been held at the opera house itself and this will be the first at the company's new

production workshop

in Purfleet, Essex.
Payment:
Credit and debit cards, cash or cheque.

When:
Saturday 24 and Sunday 25 September, from 10am.
Where:
Royal Opera House's Bob and Tamar Manoukian Production Workshop at the High House Production Park in Purfleet, Essex.
(Vellacott Close, off London Road, Purfleet, RM19 1RG)
Let me know how it was if you are going!